Come join us for the VIRTUAL
12 Days of Christmas in Springboro 5K Run and Walk!
Whether you are a first time participant or you have joined us before, this is an event that will sure add to your Christmas Spirit.
Presented by:
The Springboro Community Foundation (Christmas in Springboro) Annual 5k is here.  Except this year we've gone virtual.  
What does this mean?
It means that you register online, pick your own 5k route, complete the 5k on your own and take a picture and upload your time to see how you compare with others in the race.  
Have the freedom to run the race during the
"12 days of Christmas", wherever you want, with whomever you want.
Thank you 2020 5K Supporting Sponsors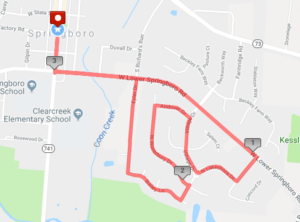 When:
Wed. Nov. 11 – Sun. Nov. 22
Where:
Anywhere!
Cost:
$20 per person
The registration includes an original "12 Days of Christmas in Springboro" gaitor mask, guaranteed for registrations through 11/3/2020.  Pick up your gator at the Performing Arts Center (Wright Station) any time during the 12 days.
For all those uploading their race times by November 22, a drawing will be held for a beautiful holiday gift basket!