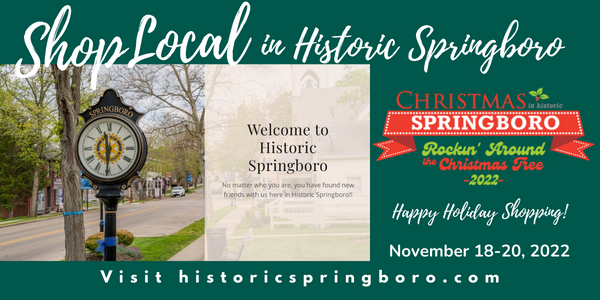 SHOP LOCAL during Christmas in Springboro! Stroll along Main Street, enjoy the holiday lights, and peek inside these incredible local businesses. Click here to visit HISTORIC SPRINGBORO.
HISTORIC SPRINGBORO BUSINESSES:
CHRISTMAS IN SPRINGBORO WEEKEND
Open festival hours. Serving sloppy joes, Chips and dip, warm spiced wine, mimosas, wine, beer, and hot chocolate.
Berkshire Hathaway Home Services / Carrie Robbins –
Hosting a pop-up shop with Intuition & Lore Friday and Saturday (botanical jewelry)
Chasing Light Art Gallery –
Fri 6-8, Sat 10-8, Sun 12-5: Artist Demonstrations, Ornament Painting, Sweet French Treats.
Fri & Sat offering free caricature for donation to the food bank
Eve's Ink –
Offering $35 piercings, Gift Certificate sale, & Toys for Tots drop-off
Scrumptious Rum Cakes on the side deck Friday night
Hope & Grace Boutique / A.S. Murrill Art Gallery –
FREE Kids ornament painting Sat 11-5, Sun 12:30-5. Open festival hours.
Open festival hours. Photos with Santa throughout the weekend: Fri. – 5 – 9 p.m. Sat. – 10-4 p.m.
Also…..Fri. Nov. 25th – 10-4 p.m., Sat. Nov. 26th – 10 – 4 p.m.
Friday / House 5-9, Barn & Patio 5-12 am, Music is TimeStamp at 7 pm
Saturday / House 8a-9p, Barn & Patio 10a-12am, Music is Vinyl Countdown at 7 pm